The prune reinterpreted by Jeremy Morin

One year after his arrival at the Metropolitan, the young Chef gains his first Michelin star, he is onlt 30 years old. This gifted cook loves above all working with good seasonal products and guess what…the prune is one of them !
" The prune is one of the rare ingredients that conceal fondness of food and health balance with the advantage of being available all year round.
When cooking it is a fabulous product: we can work it salty as much as sweet and it is an ingredient that both fits to country cooking and modern and refined compositions. For example, the prune can sublime a simple salad of diced bacon on a bed of curly endive and nut, giving the sweet and savoury note.
Coufidou products raise the Agen prune to the higher, searching for new ways if surprising our taste buds, always respecting tradition: I specially love the moist and tasty half-cooked prunes, closer to the sun dried prunes. Here is a three-course meal based on the prune that I have imagined for Coufidou, enjoy…"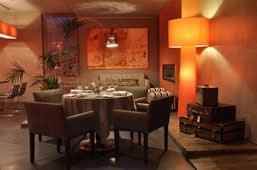 Le Metropolitan

2 place Auguste Albert
31500 Toulouse
Tél.: 05 61 34 63 11