COUFIDOU, who are we ?

The Agen Prune "IGP"
Thanks to the geographical concentration of the production in 118 cantons in Lot-et Garonne and 5 neighbouring departments, respecting a very strict brief, they were awarded an"IGP" (Indication Géographique Protégée) which completed the national recognition "CQC" (Critères Qualité Certifiés) awarded in 1996.
The prunes from this geographical area are the only ones entitled to the trade name "Pruneaux d'Agen".
These fruit come exclusively from the plum orchards planted with "prunes d'Ente" in that area. They are dried there, packed and manufactured in the firms established compulsorily in this very district.
COUFIDOU quality
COUFIDOU performance is the result of the individual performances of each producer and wage earner with a regard for the continued improvement so as to maintain a perennial activity and to warrant our customers and our consumers a high quality product. Bound by our obligation to get results and the respect we owe you we had to give a clear definition to our "ENGAGEMENT QUALITE". (commitment to quality)
COUFIDOU undertakes a real dynamic approach based on the principle of continuous improvement so as to :
guarantee the nutritious security of our products through the observance of the law and the setting and deployment of methods already successful in the food sector (HACCP, ISO 9001, ISF, BRC°
satisfy permanently our customers by catering to their every needs and by offering them healthy products of a homogeneous and lasting organoleptic quality,
work towards the continuous improvement of our performances by measuring and checking indicators chosen for their relevance.
That is why COUFIDOU has selected 5 major lines in its quality policy :
impact of the needs and expectations of our customers on our plum growers and our drying stations in order to improve the quality and quantity potential of the plum production,
constant improvement of the hygiene security and the quality of our products with the routine setting and follow-up of the product testing with a routine analysis of the results so as to avoid any drift,
continuous improvement of our industrial production tools,
accentuation of our research and development in order to offer in a proactive way innovative and attractive products corresponding to the expectations of the consumers,
guarantee the total backtracking of our products.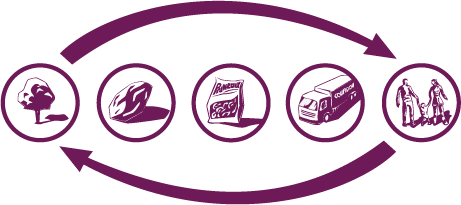 The policy of innovation combined to the policy of quality used by COUFIDOU was rewarded in 2004, 2005 and 2006 with the Ruban Bleu Intersuc in the "Spécialité de France" category for the Coufidélice Agen prunes with a brandy and orange prune curd center.